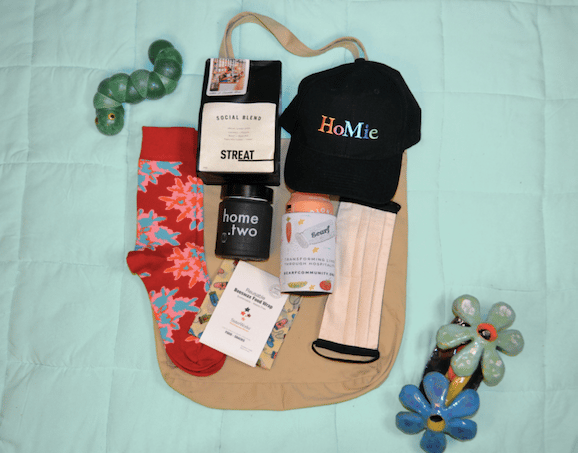 The Social Enterprise Starter Kit
This action packed hamper includes:
HoMie Rainbow Cap
STREAT Single Origin Coffee
Society Melbourne Keep Cup
SisterWorks Reusable Beeswax Wrap
Scarf Stubby Holder
The Social Studio Socks
Humanism Face Mask
Co-Ground Tote Bag
The Social Enterprise Starter Kit has everything you need to be a true supporter of the common good. Our premiere hamper features one item from all of the social enterprises involved with Melbourne Community Goods. With this action packed starter kit you can be rest assured that you're spreading your impact as far as possible!
Melbourne Community Goods hampers are supporting our city's most iconic social enterprises to continue doing the great work they do, from empowering young people experiencing homelessness to supporting refugees, migrants and community building projects in neighbouring countries.
This hamper directly supports:
HoMie
SisterWorks
STREAT
The Social Studio
Scarf
Society Melbourne
Co-Ground
Humanism Global
*We source our hamper products from independent social enterprises. These products are made in small batches and some products are subject to product variation.